1959 Uncirculated Mint Set
Starting this year, the United States Mint significantly redesigned the annual uncirculated mint set product. The 1959 Mint Set (Buy on eBay) contained one example of each coin struck for circulation, instead of the two examples per coin previously used. Also, the coins were packaged in clear plastic cellophane, which allowed both sides of each coin to be viewed and provided a better long term storage solution.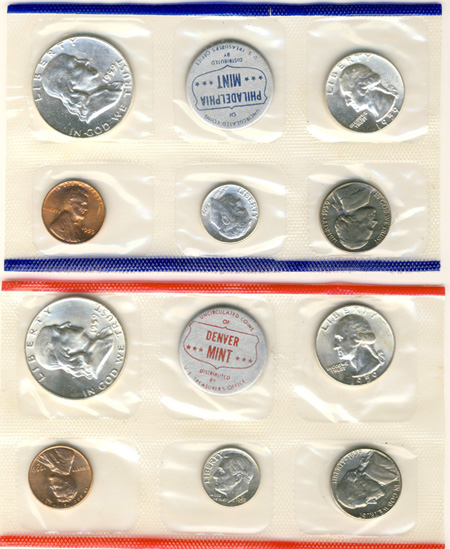 Collector response to the changes for the product was favorable, with sales more than triple from the previous year at 187,000 units. The lower pricing point may have also carried an impact. Since the number of coins included per set was reduced by half, the price saw a roughly corresponding decrease. Each set containing $1.82 face value in coins was available to collectors for $2.40.
Each 1959 Mint Set contained one example of each denomination struck for circulation from the Philadelphia and Denver Mints. This included the first year of issue for the Lincoln Memorial Cent, and the continuation of the remaining series of Jefferson Nickels, Roosevelt Dimes, Washington Quarters, and Franklin Half Dollars.
As mentioned, the packaging was altered for this and subsequent years. Specifically, two clear plastic cellophane packets included coins from the Philadelphia and Denver Mints. Each packet included a cardboard disc denoting the mint of issue. The coins were packaged and sealed in the plastic by machine, meaning that the coins included in mint sets of this era could not be handled or switched as was the case for prior years. The two packets were placed within an envelope for long term storage.
1959 Mint Set Information
Mintage: 187,000
Coins Per Set: 10
Face Value: $1.82
Original Issue Price: $2.40