2003 Uncirculated Mint Set
Sales of the 2003 Mint Set (Buy on eBay) began at the US Mint on June 16, 2003. On this date customers could begin placing orders for the popular annual coin offering.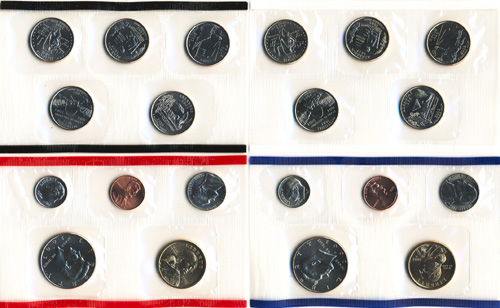 Each set included Philadelphia and Denver Mint examples of each coin issued for circulation, as well as the Sacagawea Dollar, which was not issued for general circulation. Highlighting the sets and comprising half of the coins were the 2003 State Quarters featuring Illinois, Alabama, Maine, Missouri, and Arkansas. Remaining coins were the Lincoln Cent, Jefferson Nickel, Roosevelt Dime, and Kennedy Half Dollar.
The United States Mint offered the sets at $14.95 each, unchanged since the expansion of the product that had occurred with the 1999 annual set. Product sales diminished from recent yeas, with 1,001,532 units purchased by customers during the period of availability.
Packaging for the 2003 Mint Set included outer envelopes depicting a bald eagle against an American flag. Separate red and blue envelopes were created for the Denver and Philadelphia Mint Cons. Within the envelopes coins from each mint were packaged in two separate packs, one containing the State Quarters and the other containing the remaining denominations. A certificate of authenticity signed by the US Mint Director was also placed within one of the envelopes.
2003 Mint Set Information
Mintage: 1,001,532
Coins Per Set: 20
Face Value: $5.82
Original Issue Price: $14.95