2000 Uncirculated Mint Set
The US Mint's annual uncirculated coin set would undergo another expansion. The 2000 Mint Set (Buy on eBay) contained a total of 20 different coins from the Philadelphia and Denver Mints, with denominations from one cent to one dollar.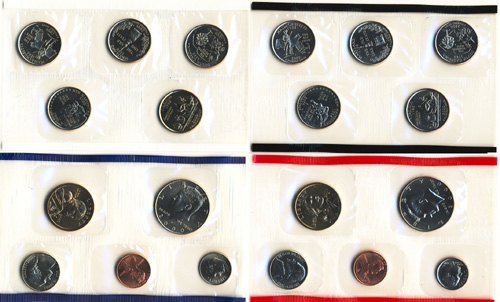 The increased number of coins was the result of the introduction of the Sacagawea Dollar. Frequently referred to as the "golden dollar," this was the latest attempt to create a circulating $1 coin. The small sized format of the previous Susan B. Anthony Dollar was retained, but the coins were given a golden color, plain edge, and new design. Despite wide publicity, the coins never achieved widespread circulation.
Each 2000 Mint Set contained Philadelphia and Denver Mint examples of the Lincoln Cent, Jefferson Nickel, Roosevelt Dime, Kennedy Half Dollar, and Sacagawea Dollar. The State Quarters Program also continued with five designs featuring Massachusetts, Maryland, South Carolina, New Hampshire, and Virginia.
Despite the inclusion of two additional coins, the price of the Mint Set remained unchanged at $14.95. Sales levels jumped to their highest amount in more than a decade at 1,490,160 units.
Starting with this year, the mint tokens which had previously been included in the sets were eliminated to make space for the new $1 coins.
Coins were arranged in four different cellophane packs, divided based on the mint facility and denomination. The two packs of coins from the Philadelphia Mint were placed within an envelope designed in blue, while the two packs of coins from the Denver Mint were in a red colored envelope. A certificate of authenticity including coin specifications were placed within one of the envelopes.
2000 Mint Set Information
Mintage: 1,490,160
Coins Per Set: 20
Face Value: $5.82
Original Issue Price: $14.95