1961 Uncirculated Mint Set
After two years of strong growth in sales, orders for the 1961 Mint Sets (Buy on eBay) declined. This took place even as demand for the United States Mint's other annual product featuring proof coins soared to new heights.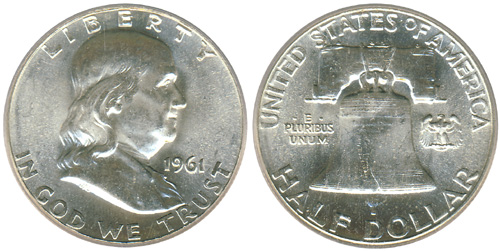 The annual mint set may have seemed less desirable by contrast since it contained examples of coins struck for circulation, with total mintages into the hundreds of millions. With a little bit of effort these coins could be obtained through circulation channels rather through the official set, avoiding the premium changed by the Mint. For this year, each set containing $1.82 in face value worth of coins was priced at $2.40.
The 1961 Mint Sets contained the now familiar array of ten coins, consisting of examples of the cent, nickel, dime, quarter, and half dollar from the Philadelphia and Denver Mints. The half dollars, quarters, and dimes were each struck in 90% silver, the standard composition for the era. These coins contain 1.22974 troy ounces of silver, contributing intrinsic value to the set for present day collectors.
Each set was packaged in the flat pack style, which consisted of the coins from each mint sealed into separate cellophane holders. These were placed with protective cardboard inserts into an envelope for mailing and long term storage by collectors.
1961 Mint Set Information
Mintage: 223,704
Coins Per Set: 10
Face Value: $1.82
Original Issue Price: $2.40