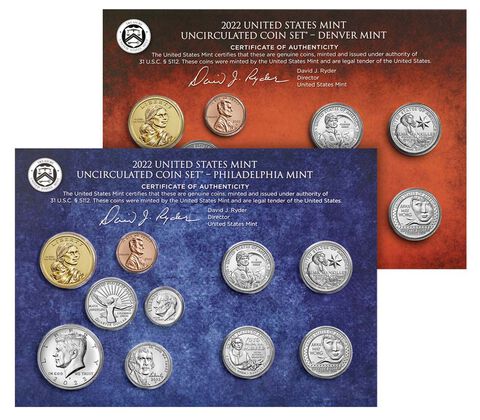 On July 12, 2022, the United States Mint began offering for sale the 2022 Uncirculated Coin set (Buy on eBay) with no mintage or household order limit but a product limit of 250,000 sets.
Unlike the 2021 set, which had 14 coins, the 2022 set marked a return to the 20-coin mint set because of the debut of the American Women quarter series. The price of the set remained at $25.25.
In addition, the blue and red folders were replaced in 2022 with blue and red cards for the coins struck at the Philadelphia and Denver Mints.
American Women Quarters
The sets included the first five American Women quarters that honor: Maya Angelou – celebrated writer, performer, and social activist; Dr. Sally Ride – physicist and first American woman in space; Wilma Mankiller – first woman principal chief of the Cherokee Nation; Nina Otero-Warren – leader in New Mexico's suffrage movement; Anna May Wong – first woman Chinese American Hollywood film star, director, and producer.
The sets also include the 2021 Native American $1 Coin whose obverse retains the central figure of Sacagawea carrying her infant son, Jean-Baptiste. The reverse design features Ely S. Parker, depicted in an Army uniform, serving as military secretary to General Ulysses S. Grant during the Civil War. During the surrender at Appomattox, Parker rendered formal surrender documents in his own hand. He is shown with a quill pen, book, and likeness of his graceful signature, as symbols of his experience as an expert communicator.
Sales for this set during the first week it was available were very strong at 164,710 – the second-highest initial sales for a mint set since 2011. Those results were likely related to the fact that the 2022 sets included the year's American Women quarters. However, 6,453 of those sets were returned later. Cumulative sales as of the end of July 2022 were 161,269.
2022 Mint Set Information
Coins per set: 20
Face value: $5.82
Original Issue Price: $25.25
Mintage: 161,269 as of 7/31/22