2008 Uncirculated Mint Set
For the second year, the United States Mint released a significantly expanded annual coin set due to the increased number of coin series with rotating designs. The 2008 Mint Set (Buy on eBay) included 28 coins with a face value of $13.82. Notably, this year included the final five releases in the long running 50 State Quarters Program.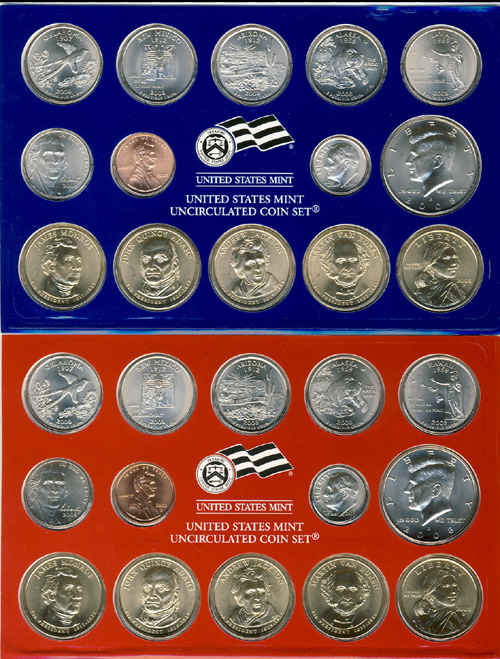 The US Mint began accepting orders from collectors for the sets on July 30, 2008, slightly ahead of the release date from the previous year. Pricing remained unchanged at $22.95 per set. Once again all coins featured the special satin finish, which was distinct from the finish used for regular circulation strike coins.
The 2008 Mint Sets included 14 coins each from the Philadelphia and Denver Mints covering denominations from one cent to one dollar. The coins with rotating designs were the Presidential Dollars featuring James Monroe, John Quincy Adams, Andrew Jackson, and Martin Van Buren; and the State Quarters featuring Oklahoma, New Mexico, Arizona, Alaska, and Hawaii. Rounding out the set were the coins featuring static designs, the Lincoln Cent, Jefferson Nickel, Roosevelt Dime, Kennedy Half Dollar, and Sacagawea Dollar.
Sales of the 2008 Mint Set continued until February 25, 2009, representing a total availability period of less than seven months. Total units sold by the US Mint reached only 745,464, which represented the lowest sales for a Mint Set since 1963. The low figure would be undercut in subsequent years as sales for the product entered a period of decline.
Packaging remained similar in style to the previous year, although the images were updated to show views of the city line at dusk. These folders opened to reveal all 28 coins sealed in blister packs, which allowed the obverse and reverses to remain visible. Coin specification information and a certificate of authenticity were included on the back of the illustrated flap.
2008 Mint Set Information
Mintage: 745,464
Coins Per Set: 28
Face Value: $13.82
Original Issue Price: $22.95