2010 Uncirculated Mint Set
The 2010 Mint Set (Buy on eBay) was first available for sale from the United States Mint on July 15, 2010. The popular annual offering would see a reduction in the number of coins included, although the product price would be increased. A new series of coins featuring rotating designs would make its debut.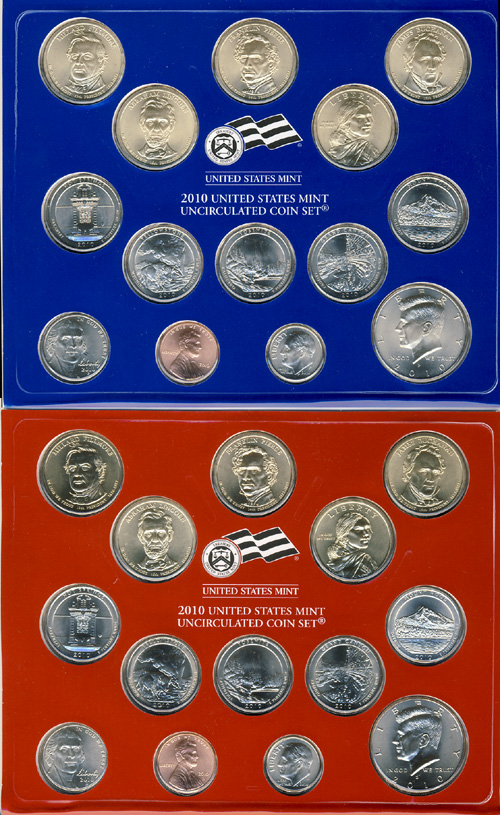 The first five designs of the America the Beautiful Quarters Program were included within the set. This new series of circulating commemorative quarter dollars would feature reverse designs emblematic of a national park or national site from each state, territory, and the District of Columbia, issued over the course of 12 years. The series was highly reminiscent of the State Quarters Program, although collector interest has been more subdued. The designs included in the 2010 Mint Set feature Hot Springs National Park, Yellowstone National Park, Yosemite National Park, Grand Canyon National Park, and Mount Hood National Forest.
Other series featuring rotating designs included within the set were the Presidential Dollars with four designs depicting Millard Fillmore, Franklin Pierce, James Buchanan, and Abraham Lincoln, and the Native American Dollar featuring the Hiawatha Belt. The 2010 Lincoln Cent included in the set introduced a new reverse design featuring a Union Shield. The remaining coins were the Jefferson Nickel, Roosevelt Dime, and Kennedy Half Dollar.
Notably, this set would be the last to include coins struck with a satin finish. This special type of finish had been introduced in 2005 for use in the annual uncirculated coin set and certain other products. Starting with the 2011 Mint Set, the US Mint would resume the brilliant finish.
The price for the 2010 Mint Set was $31.95, representing an increase of $4 per set. This pricing increase took place despite the fact that there were fewer coins included with a lower face value. The total reported sales for the product tumbled to 583,897 units, down more than 200,000 units compared to the prior year.
2010 Mint Set Information
Mintage: 583,897
Coins Per Set: 28
Face Value: $13.82
Original Issue Price: $31.95