2016 Uncirculated Mint Set
Sales for the 2016 Mint Set (Buy on eBay) officially opened at the United States Mint on May 18, 2016. This year saw a reduction in the number of coins included in the set as well as a reduction in price due to the conclusion of the long running Presidential Dollar Program.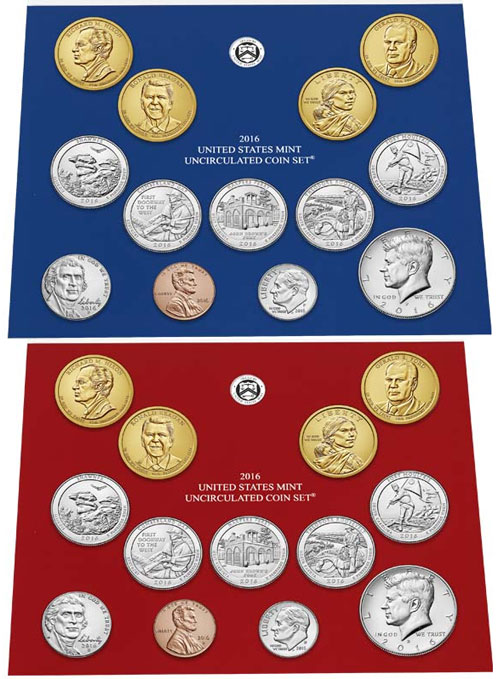 Each set featured the last three Presidential Dollars of the series honoring Presidents Richard M. Nixon, Gerald R. Ford, and Ronald Reagan. Under the stipulations of the authorizing legislation for the program, only Presidents who have been deceased for at least two years are to be honored. With no further eligible Presidents, the series was concluded.
The latest five designs for the America the Beautiful Quarters Program were included. The designs featured Shawnee National Forest in Illinois, Cumberland Gap National Historical Park in Kentucky, Harpers Ferry National Historical Park in West Virginia, Theodore Roosevelt National Park in North Dakota, and Fort Moultrie (Fort Sumter National Monument) in South Carolina. These coins were joined by the 2016 Native American Dollar, honoring Native American Code Talkers of World War I and World War II, as well as the 2016-dated Lincoln Cent, Jefferson Nickel, Roosevelt Dime, and Kennedy Half Dollar.
Examples of each of the 13 coins were included from both the Philadelphia and Denver Mint facilities. The coins from each facility were sealed in separated blister packs, with Philadelphia themed in blue and Denver themed in red. A certificate of authenticity was printed on each pack.
The 2016 Uncirculated Mint Set was priced at $26.95, representing a price decrease of $2 per set compared to the prior year. The decrease was driven by a drop in the number of coins included in the set. In the previous year four Presidential Dollars were included from each mint, compared to only three for this year.
2016 Mint Set Information
Mintage: TBD
Coins Per Set: 26
Face Value: $11.82
Original Issue Price: $26.95