2006 Uncirculated Mint Set
The 2006 Mint Set (Buy on eBay) continued the use of the new satin finish that had been introduced for the product in the prior year. This year also marked the "Return to Monticello" for the Jefferson Nickel, which saw its original reverse design restored, paired with a new obverse design from Jamie Franki.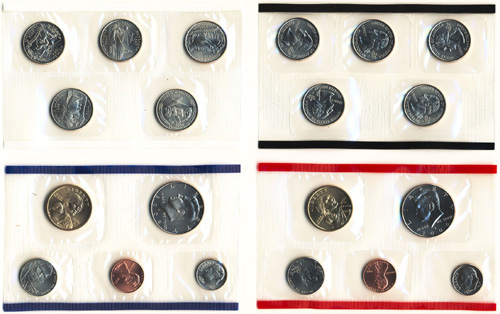 The US Mint announced the start of sales on July 18, which was more than six weeks later than the prior year release date. Each set would include a total of 20 coins with a face value of $5.82. Satin finish examples from the Philadelphia and Denver Mints were included for the Sacagawea Dollar, Kennedy Half Dollar, Roosevelt Dime, Jefferson Nickel, and Lincoln Cent.
Continuing to be a highlight of the annual coin set were the five State Quarters. The 2006 releases honored Nevada, Nebraska, Colorado, North Dakota, and South Dakota, which were the thirty-sixth to fortieth states to join the union.
Although the number of coins per set was reduced from the previous year, the price remained the same at $16.95 per set. Final reported sales for the 2006 Mint Set were 847,361 units, falling nearly to the recent low set with the 2004 Mint Set.
Packaging remained within a similar style with the coins included in four different mylar packs. Two represented coins from the Philadelphia Mint, while the other two represented coins from the Denver Mint. These were placed along with a certificate of authenticity into illustrated outer envelopes, which featured depictions of the Liberty Bell and the mountains of Colorado.
2006 Mint Set Information
Mintage: 847,361
Coins Per Set: 20
Face Value: $5.82
Original Issue Price: $16.95