2001 Uncirculated Mint Set
After two years of stronger sales, the 2001 Mint Set (Buy on eBay) saw the number of units purchased by collectors drop. In the previous two years there had been excitement generated by the launch of the State Quarters Program and the introduction of the Sacagawea Dollar. This year's set lacked a specific driver of enthusiasm.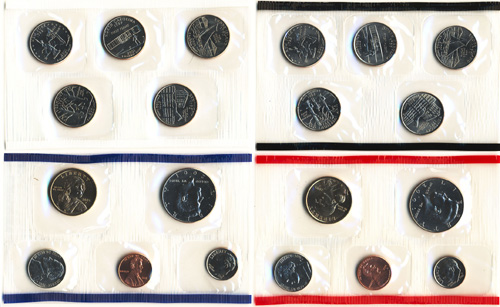 Each set included a total of twenty different coins from two mint facilities. The 2001 State Quarters featured New York, North Carolina, Rhode Island, Vermont, and Kentucky. Additional coins included the Lincoln Cent, Jefferson Nickel, Roosevelt Dime, Kennedy Half Dollar, and Sacagawea Dollar. For each coin, separate examples from the Philadelphia and Denver Mint were included.
Pricing for the 2001 Mint Sets remained unchanged from the prior year at $14.95, compared to an included face value of $5.82. Total unit sales realized during the period of availability reached 1,116,915 units.
The style of packaging remained similar to the prior years, with a redesign to the outer envelopes. The Philadelphia Mint envelope including a picture of the mint building with a blue color scheme. The Denver Mint envelope had an image of their own facility, themed in red. Each envelope contained two separate cellophane packs containing the coins. A complete 2001 Mint Set includes both envelopes and all twenty coins.
2001 Mint Set Information
Mintage: 1,116,915
Coins Per Set: 20
Face Value: $5.82
Original Issue Price: $14.95