U.S. Mint Uncirculated Coin Set
Starting this year, the United States Mint's Uncirculated Coin Sets began to experience a sharp increase in demand, which would continue until the brief suspension of the product line in 1964. The 1962 Mint Set (Buy on eBay) recorded total sales of 385,285, an increase of more than 160,000 from the prior year. It's worth noting that just a decade earlier, sales had broken through the 10,000 barrier for the first time.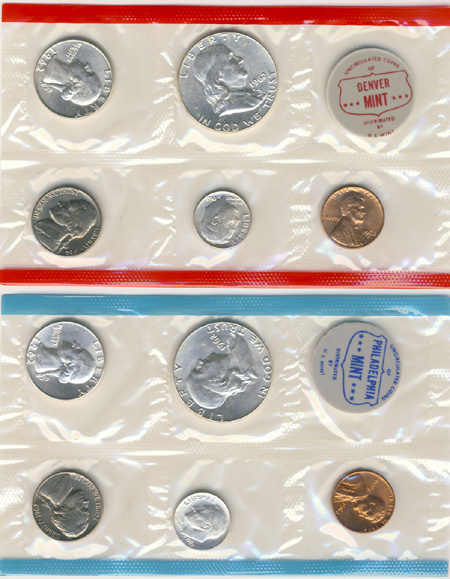 Each set included examples of the five denominations issued for circulation from the two mint facilities in operation. The coins included the Lincoln Cent, Jefferson Nickel, Roosevelt Dime, Washington Quarter, and Franklin Half Dollar. The examples struck at Philadelphia did not contain a mint mark, while the examples struck at Denver carried the "D" mint mark.
It's worth noting that this year the 1962 Franklin Half Dollar represents a significant conditional rarity. Examples of the coin from the Philadelphia Mint are rarely encountered in gem condition with full bell lines. Collectors are advised to check their sets for the condition of this specific coin.
The packaging for the 1962 Mint Set consisted of the two cellophane packets placed with a protective cardboard within an envelope. The outside of the envelope carried a return address for the Treasury Department and the lower portion included a notation of the contents as "1962 – U.C."
1962 Mint Set Information
Coins per Set: 10
Face Value: $1.82
Original Issue Price: $2.40
Mintage: 385,285

< 1961 Mint Set | 1963 Mint Set >