2015 Uncirculated Mint Set
The United States Mint opened sales for the 2015 Mint Set (Buy on eBay) on April 27, 2015. This annual set offering contained uncirculated quality examples of fourteen coins each from the Philadelphia and Denver Mint facilities.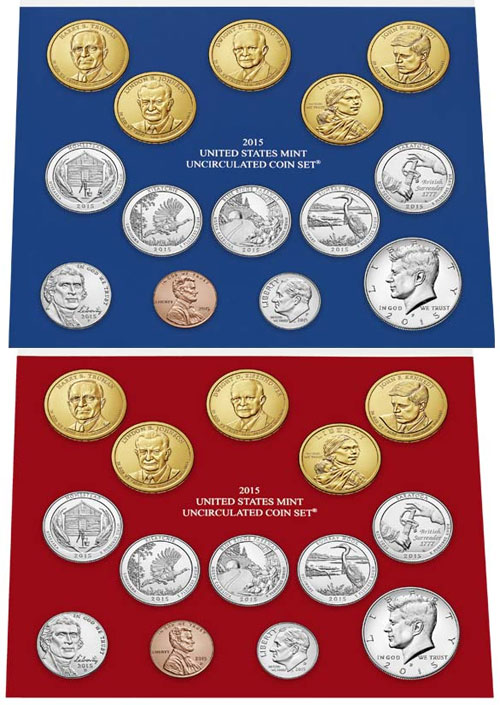 The set featured the latest designs from the America the Beautiful Quarters Program and the Presidential $1 Coin Program. For this year, the five quarters carried designs representing Homestead National Monument of America, Kisatchie National Forest, Blue Ridge Parkway, Bombay Hook National Wildlife Refuge, and Saratoga National Hisotrical Park. The four Presidential $1 Coins featured portraits of Harry S. Truman, Dwight D. Eisenhower, John F. Kennedy, and Lyndon B. Johnson. The Native American $1 Coin Program reached its seventh year of release with a new reverse design honoring the Mohawk Ironworkers. The reverse design featured a depiction of an ironworker reaching for an I-beam as it swings into position against the backdrop of the city skyline.
Alongside these coins with rotating designs were the coins with static designs comprising the 2015-dated Lincoln Cent, Jefferson Nickel, Roosevelt Dime, and Kennedy Half Dollar. Starting this year, the half dollar contained the restored original version of the portrait of John F. Kennedy created by Gilroy Roberts.
The fourteen coins from each mint were presented in a sealed blister pack with a blue colored background for the Philadelphia Mint and red colored background for the Denver Mint. The front of the pack featured an image of a United States flag, while the back carried a certificate of authenticity. Coin specification information was included on the inner flap.
The 2015 Mint Set was priced at $28.95 per set, without a stated maximum mintage or household ordering limit imposed. Final sales for the product reached 314,032 units, establishing another recent mintage low.
2015 Mint Set Information
Mintage: 314,032
Coins Per Set: 28
Face Value: $13.82
Original Issue Price: $28.95