1963 Uncirculated Mint Set
The 1963 Mint Set (Buy on eBay) saw the highest mintage for the product to date, with more than 600,000 sets sold to collectors. The rapid increase would continue for the following year, with collector interest driving final sales to a milestone level.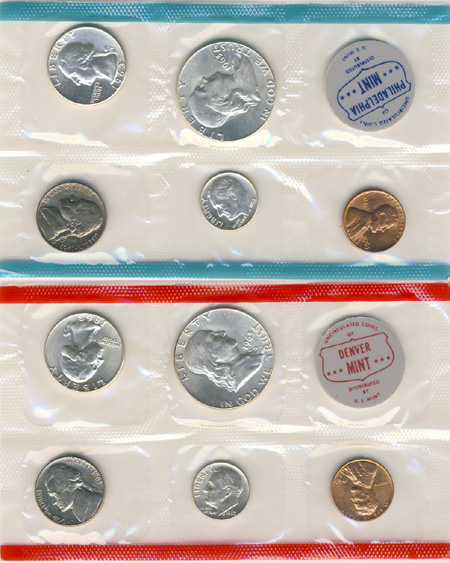 For many years the annual uncirculated mint set remained a distant second behind the more popular proof sets. The mint sets had finally started to close the gap around this time frame. In future generations both products would come to represent an annual staple for coin collectors.
The contents of each 1963 Mint Set included ten coins with a face value of $1.82. The five different denominations were represented by one example each from the Philadelphia and Denver Mints. The Roosevelt Dime, Washington Quarter, and Franklin Half Dollar were struck in the standard composition of 90% silver and 10% copper. The remaining Lincoln Cents and Jefferson Nickels were struck in their respective base metal compositions.
The five different coins from each mint were machine sealed into cellophane packets along with a cardboard disc denoting the mint of issue. The two packets were then placed within an outer mailing envelope. Since many collectors place importance on the original packaging, sets without the original envelopes or with damaged envelopes may sell at a discount.
1963 Mint Set Information
Mintage: 606,612
Coins Per Set: 10
Face Value: $1.82
Original Issue Price: $2.40