2002 Uncirculated Mint Set
The 2002 Mint Set (Buy on eBay) was first available for sale from the United States Mint on June 12, 2002. Once again the sets would include a total of 20 different coins from the Philadelphia and Denver Mints.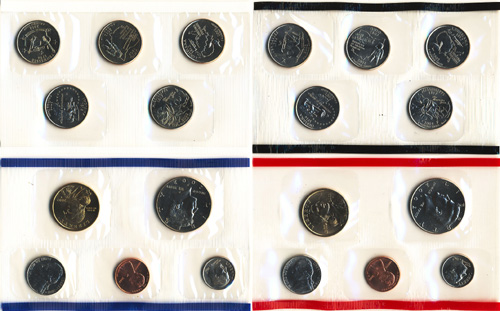 For this year, there were no 2002 Sacagawea Dollars struck for circulation. Despite the government's best efforts, the coins failed to achieve significant circulation and the large production from the previous two years had accumulated in Federal Reserve Bank vaults. From this year onwards, the US Mint struck only a limited number of the $1 coins for placement into the annual sets or direct sales to collectors in bags and rolls.
Other coins included in the 2002 Mint Set were the Kennedy Half Dollar, Roosevelt Dime, Jefferson Nickel, and Lincoln Cent. The State Quarters issued for this year featured Tennessee, Ohio, Louisiana, Indiana, and Mississippi. For each coin, examples from both the Philadelphia and Denver Mint were included.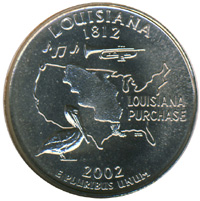 The US Mint priced the sets at $14.95 each and sold a total of 1,139,388 units. The quality of coins included in the 2002 Mint Set was better than experienced in previous years. Although no special procedures were announced or indicated, many coins are exceptionally sharply struck and often display proof like qualities. High grade circulation strikes for these years, typically originate from Mint Sets.
Packing for the 2002 Mint Set consisted of two separate envelopes containing the coins from the Philadelphia and Denver Mints. The outer designs featured the skyline of each city, themed in blue or red. Within the envelopes were two cellophane packs containing the coins, as well as a certificate of authenticity.
2002 Mint Set Information
Mintage: 1,139,388
Coins Per Set: 20
Face Value: $5.82
Original Issue Price: $14.95