2014 Uncirculated Mint Set
The 2014 Mint Set (Buy on eBay) marked another release for the long running numismatic product which provided collectors with an easy method for acquiring examples of each of the circulating coins issued for the year.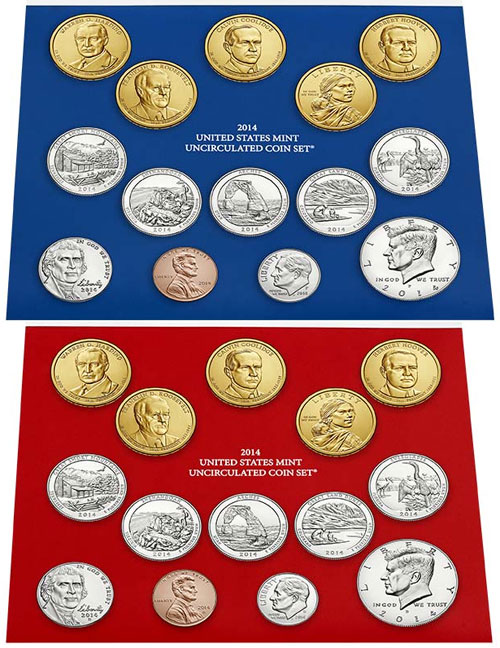 Ongoing series with rotating designs continued alongside the mainstay denominations with static designs. The America the Beautiful Quarters Program entered its fifth year of release with designs representing Great Smoky Mountains National Park, Shenandoah National Park, Arches National Park, Great Sand Dunes National Park, and Everglades National Park. The Presidential Dollars Program reached its eighth year with designs honoring Warren G. Harding, Calvin Coolidge, Herbert Hoover, and Franklin D. Roosevelt. The Native American Dollar reached its sixth year of release with a design representing Native American hospitality for the Lewis and Clark Expedition.
The set was completed with the 2014-dated releases for the Lincoln Cent, Jefferson Nickel, Roosevelt Dime, and Kennedy Half Dollar.
One example of each of the fourteen coins was included from both the Philadelphia and Denver Mint facilities. The coins for each facility were enclosed within a separate blister pack. The blister pack contained an outer flap decorated with flag imagery and containing the coin specification information.
Sales for the 2014 Mint Set opened on May 13, 2014. The sets carried an issue price of $27.95, unchanged from the prior year. Orders fulfilled through the US Mint's online subscription program were eligible for a discounted price of $25.15.
The sets remained available until the end of the 2015 calendar year. The last reported sales figures indicated total distribution of 345,813 for the set coming in below the prior year offering.
2014 Mint Set Information
Mintage: 345,813
Coins Per Set: 28
Face Value: $13.82
Original Issue Price: $27.95