2004 Uncirculated Mint Set
The scope of the US Mint's annual coin set expanded with the 2004 Mint Set (Buy on eBay). The number of coins per set rose from 20 to 22 pieces, which was also accompanied by a price increase.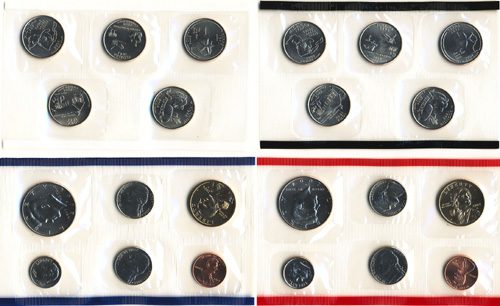 This year two different designs were issued for the five cent piece, as part of the Westward Journey Nickel series to commemorate the Louisiana Purchase and the exploration of the western territories by explorers Meriwether Lewis and William Clark. The obverse of the 2004 nickels remained the same portrait of Jefferson, while the reverse carried a depiction of the keelboat used in the expedition and a peace medal given to local inhabitants in the territories.
Still in progress was also the design series for the 50 State Quarters Program, which had begun in 1999. For this year, the reverse designs of the quarters featured Michigan, Florida, Texas, Iowa, and Wisconsin. These coins honored the twenty sixth to thirtieth states to join the union.
Remaining coins within the annual uncirculated coin set were the Lincoln Cent, Roosevelt Dime, Kennedy Half Dollar, and Sacagawea Dollar. At this point in time, the two largest denominations were not issued for circulation, but only included in collector and numismatic products.
The 2004 Mint Sets were priced at $16.95, representing an increase of $2 from the prior year. Collectors did not seem to appreciate the price increase for the inclusion of another ten cents in face value worth of coins. Total sales dropped to the lowest level in decades with 842,507 units reported sold.
Packaging for the set highlighted the new nickel designs, putting large sized images of the coins at the center of each envelope. The other coins were depicted in smaller scale to the side of the envelope.
2004 Mint Set Information
Mintage: 842,507
Coins Per Set: 22
Face Value: $5.92
Original Issue Price: $16.95