2013 Uncirculated Mint Set
The United States Mint began sales of the 2013 Mint Set (Buy on eBay) on June 4, 2013. The product contained uncirculated versions of fourteen different coins struck at both the Philadelphia and Denver Mint facilities.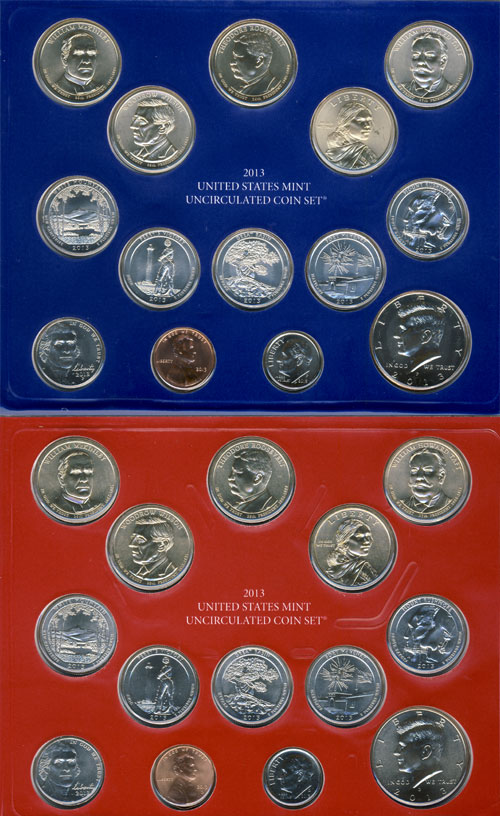 The large number of coins included in the set was the result of multiple ongoing series which featured different designs. The America the Beautiful Quarters Program featured five designs representing White Mountain National Forest, Perry's Victory International Peace Memorial, Great Basin National Park, Fort McHenry National Monumnet, and Mount Rushmore National Memorial. The Presidential $1 Coin Program featured four designs honoring William McKinley, Theodore Roosevelt, William Howard Taft, and Woodrow Wilson.
The remaining coins in the set were the 2013-dated Lincoln Cent, Jefferson Nickel, Roosevelt Dime, Kennedy Half Dollar, and Native American Dollar with a design commemorating the Treaty with the Delawares.
Pricing for the set remained unchanged from the prior year at $27.95. The United States Mint had lowered the price of the annual offering in 2012, but this had failed to spur additional sales.
Collector enthusiasm for the long running numismatic product saw a rebound from the historically low levels of the prior year. The last reported sales for the 2013 Mint Set came in at 376,844 units, exceeding the distribution of the prior year set by a healthy margin.
The packaging was slightly redesigned starting this year. The outer portion of the folder carried flag imagery rather than the plain black background seen in recent prior years.
2013 Mint Set Information
Mintage: 376,844
Coins Per Set: 28
Face Value: $13.82
Original Issue Price: $27.95