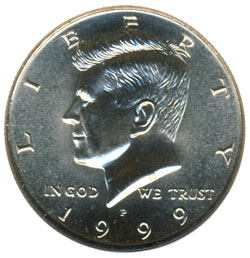 The decade of issuance from 1990 to 1999 for the United States Mint Set is an interesting one to discuss. During this time period, the number of sets ordered by collectors gradually fell, culminating with an annual low reached in 1997. However, in 1999 the advent of the State Quarters Program would bring new popularity to the sets which offered uncirculated examples of each of the year's coins.
In 1990, the US Mint sold more than 1.8 million sets to collectors. Although this was down from the levels of the 1970's, it was still well above some of the low sales achieved towards the end of the 1980's. With a few aberrations along the way, the annual sales numbers would decline to the eventual low of 950,473 sets in 1997. This was the lowest sales level for the product since 1963 and would immediately be followed by a renewed interest which brought sales levels higher.
During this run, the 1996 Mint Set is notable for including a Roosevelt Dime with the "W" mint mark. This special coin was issued to mark the 50th anniversary of the series and represented the first time that the mint mark had been used on a circulating coin design. This particular coin and set remain very popular with collectors and carry a premium.
The set released in 1998 enjoyed some renewed interest as the last year of appearance for the traditional reverse design for the Washington Quarter. In the following year, the State Quarters would feature a revised obverse design and a reverse design highlighting one of the states of the union. This innovative program resulted in an expansion in the number of coins included in the standard Mint Set.
1990-1999 Mint Sets By Date